3rd Party Apps which integrate with Sage, for Scalability On Demand

The complete employee management and payroll system
The complete HR3 employee management system is an entire ecosystem that lets you expand your software's capabilities as the need arises. Start off with our payroll software, then add employee kiosk, hr, workplace health & safety or advanced BI Reporting. Whichever modules you choose, HR3 employee management software is intelligent, intuitive and easy to use.
Mobile Sales.Live for Mobile Teams
Mobile Sales Tool for teams in the field who want to access and process real time Sales, Customer and Inventory data
"Ready to go" and fully integrated with your Sage software, this Mobile Sales tool will give sales teams Customer and Inventory Item details, Sales History, Common Items, Stock Quantities, Sales Templates, Customer Special Pricing and much more.
Reduce errors and double handling with Sales.Live. Low cost, quick deployment with no lock in contracts.
What can I do with the Mobile Sales.Live?
Sales.Live makes it easy to give quotes, on the fly. Choose the customer, add products to a cart and send! Customers will receive your quote via email and the quote will sync with the Business System.
Sales Staff can place orders on the road. Once you've added items to the cart, you can add additional detail like Notes, Discounts or even select the Warehouse before completing the order.
With Sales.Live there's no need to wait to get back to the office. You can invoice Customers immediately with a signature option and have the order processed to your Warehouse for shipping.
Real time access to contacts, addresses, notes, sales data, common items and templates. In the palm of your hand, on any device, and using any browser.
Access Customer Order and Sales history, in real time, allowing you to speed up decision making and impressing your Customers.
Get up to the minute information on stock holding, different pricing, last cost, average cost, etc. Sort by individual or group, and even access Custom fields.
Connected or Non-Connected
Stay connected to your Business System for up to the minute information or get the independence of stand-alone mode. With Sales.Live it's your choice.
Deep Integration with Business System
It's time to stop Data Double Entry.
Aside from core integration functionality across Customers and Inventory, Sales.Live will make the Sales Reps and Managers much more effective in the field, and in the office.
Easy Set up and Deployment
With Sales. Live, there's no complex installations or lengthy onboarding. Simply download the Plus.Live Data Connector to cut order processing time, reduce double entry and speed up delivery.
For Sales Reps: 
Accurate Information
Get the right information about your Customers at the right time, including past orders, account balances and more. Real time, in the palm of your hand.
Quicker Decisions
By having access to real time stock holding, Sales reps can help customers make quicker decisions about inventory and delivery times.
No Waiting, No Errors
Save time and paper. Sales.Live cuts down on duplicate data entry, integrated to the Business System, with security and permission functionality.
For Sales Managers and other Management:
ERP in the field
Quickly extend your Business ERP into the field with low deployment set up time and cost.
Better Customer information
Help your team save time by allowing secure access to important information like stock holdings and customer information where it matters most – in front of the Customer.
Improve Customer Satisfaction
By giving your team access to accurate and timely information about customers, your team can make better decisions and improve efficiencies. Happier Customers means more Sales.
Sage Inventory Advisor (SIA)
With the right inventory in the right place at the right time, growing your business has never been easier with Sage Inventory Advisor – an affordable cloud solution that helps companies:
Reduce excess inventory with effective ordering
Minimise stock-outs
Place orders quicker
Sage Inventory Advisor module is an affordable cloud solution that tells you what, when and how to purchase, thereby reducing excess inventory and freeing up working capital while minimising stock-outs and increasing revenue.
Accessed anytime, anywhere via web browser or mobile device, SIA is designed to integrate and connect to Sage Evolution data, delivering real-time health-checks on your inventory and reducing time spent on forecasts and ordering.
Easy to use and quick to adopt, you can produce quality forecasts and optimal replenishment recommendations, with visual dashboards which display overall inventory performance and provide early warning of items needing attention.
Minimise stock-outs
Release cash tied up in excess inventory
Significantly reduce the time spent on planning, forecasting and ordering.
Sage Inventory Advisor can be implemented in just a few hours and is accessible anytime, anywhere. It requires no local hardware installation and provides worry-free updates and maintenance.
Business Benefits:
Minimise stock-outs; improve stock availability by 2%-15% and increase sales
Reduce excess inventory; reduce inventory by 10%-25% and improve cash flow
Simplify ordering; significantly reduce the time spent on planning, forecasting and ordering
Inventory visibility; a whole new view of your business – anytime, anywhere
Early warning; items needing attention today to prevent stock-outs or excess
Affordability
Streamline Software – AutoDoc HSE
Taking you one step closer to the paperless office – AutoDoc HSE streamlines your document delivery in an intelligently contextual manner.
Document delivery management: Revolutionised.
Give your printers a rest.
AutoDoc HSE is a modern document delivery and document management system that's revolutionising the way business does business. Redefines the way applications produce and deliver documents: all while effortlessly streamlining electronic document storage. AutoDoc is the all-in-one, document archive, delivery, and PDF conversion solution no business should be without.
What can AutoDoc do for you?
Provide a streamlined, automated Email, Fax, Print and Archive delivery system that reduces delivery and stationery costs and saves time.
Effectively deploy a standard, streamlined document delivery and archiving process across a single PC to an entire organisation.
Dynamic, contextual document routing yielding streamlined business process improvements.
Centrally manage and track document movement from a comprehensive log.
Integrate with almost any existing app to maximize your current investment.
Print to fax, email, archive, SMS, and scan to PDF:
All of this and more can be achieved effortlessly with AutoDoc HSE. All done in one streamlined, intelligent operation. Additionally, AutoDoc HSE's MessageSaver fax gateway and SMS gateway offer the user extra savings, added to the return on investment generated through the optimised process flows AutoDoc HSE creates.
AutoDoc HSE is available in four separate versions, each designed to improve the way you deliver your documents and save you money in the process. Listed below is a brief description of each version and its key applications, and the Feature Comparison allows for an easy check of whether specific functionality differs between versions.
You will also find that AutoDoc HSE is possibly the most competitively priced product on the market, with most applications offering this functionality starting well above our Enterprise version, with extra cost for the functions we include as standard. There is also an easy upgrade path between all versions, which means AutoDoc HSE can grow with you as your needs change.
Thinpoint by Netleverage
Cost effective and simplified remote access to core business applications and managed desktops.
Hosting for Sage 50, Sage Pastel, Sage Evolution
Securely access your office desktop and applications anywhere on the internet with Net Leverage, a leading application virtualization and Cloud service provider. Net Leverage Thin Point™ service​ platform ​provides secure and cost effective remote access to any windows application hosted on the Cloud.
With offices in Australia, UK, Canada, United State and Mexico, Net Leverage's Thin Point product and services are used by over 100,000 users in enterprise, small and medium businesses across Australia, America, Asia and Europe. With a focus on accounting and business management software verticals, Netleverage is the perfect solution to host your Sage product online.
Features:
Install, secure, back up and maintain desktops and applications centrally.
Increase software licensing compliance and digital rights management while reducing the cost.
Control access to sensitive data and centralised applications by maintaining information in a secure information centre.
Host desktop infrastructure (inside the Netleverage server rooms) accessible from any desk.
Xperdyte Manufacturing
Controls your production processes and brings all aspects of your operating environment together
Advanced Manufacturing Software
Integrates with Sage Pastel Partner Advantage and Sage Evolution ERP
Improved manufacturing resource planning
Maximise your operational objectives with Xperdite, an Enterprise Resource Planning (ERP) solution for manufacturers. Xperdite ensures that materials are available for production and products are available for customers, while maintaining the lowest possible materials and production levels in store.
The Xperdite module extracts raw materials from your data into Work in Progress, taking control of all the cost elements during the production cycle. Finished goods are then accurately costed into your finished goods inventory.
Features:
Bill of Materials – provides for in-depth BOM structure for detailed and accurate costing.
Create multiple BOM's for economic quantities ensuring optimum costs.
Work in Progress – prioritise Works Orders, and control the actual running and measurement of performance in production.
Production scheduling – provides effortless scheduling of production tasks with the ability to schedule Works Orders at Work Centre level.
Project Milestone Planning – create project milestones where forecast plans can be set and measured against actual performance.
Material Requirement Planning (MRP) – plan manufacturing activities, delivery schedules and purchasing activities.
Production Decanting – provides the ability to decant stock from one pack size to another whilst simultaneously controlling and calculating applicable costs.
Serial/Lot Tracking – integrates with Sage Evolution's inventory and allows you to keep detailed information on specific inventory items.
Xtracta
Technology, powered by artificial intelligence, that automatically captures data from documents
Optical Character Recognition
Data Extraction
Data Storage
Empower your software with automatic data extraction and capture – removing the need to manually enter that data into a computer system.
Xtracta provides an easy to use online software to automatically capture data from virtually any document and transfer it into your business software using artificial intelligence technology.
Capture or scan receipts, invoices and orders with Xtracta's fast and accurate receipt data extraction App which automatically loads them into your accounts system, thereby reducing inaccuracies and speeding up admin processes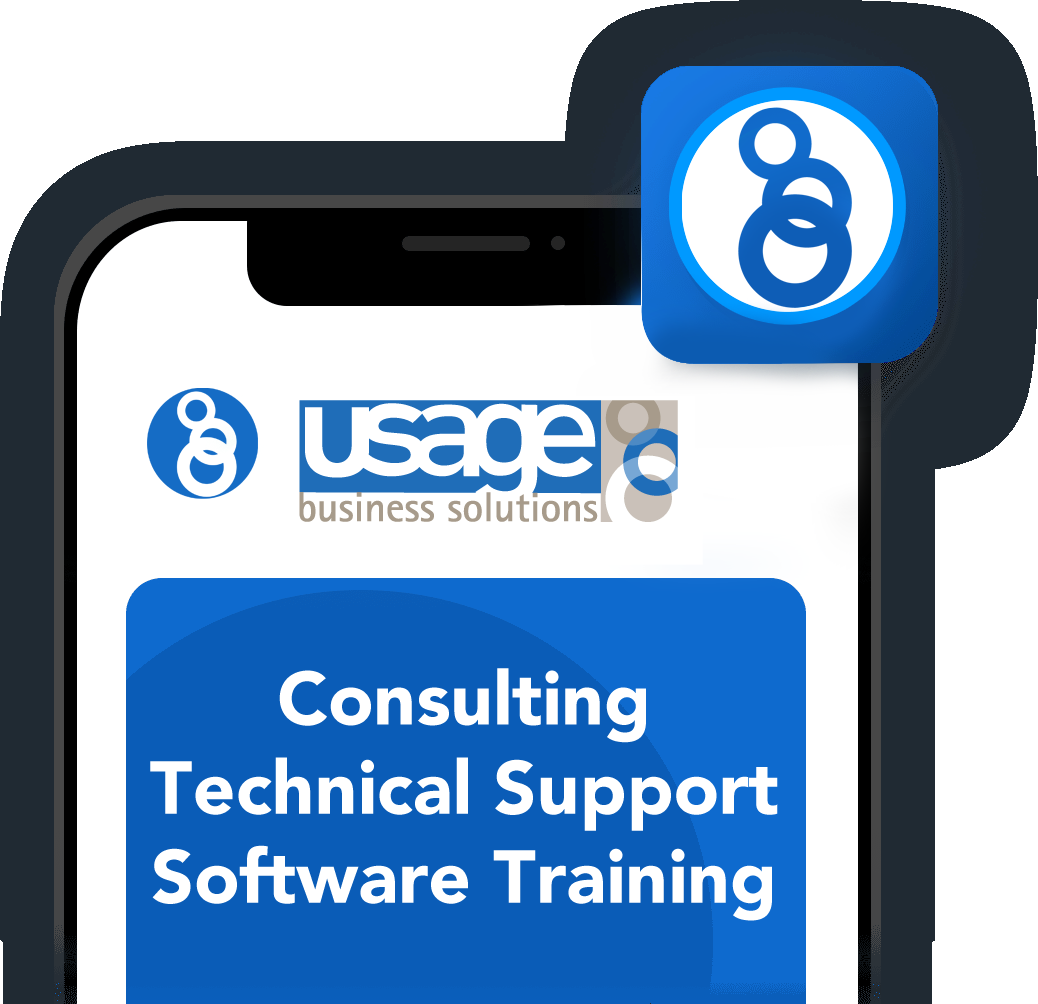 Experience, expertise and service excellence
Usage is the authorised provider of Sage business management software in Australia and New Zealand. Established in response to a growing demand for a focused and reliable source of industry and product knowledge, our consulting team build on Sage's product range to deliver powerful industry solutions that meet industry-specific needs.