ERP Partner of the Year Award
Sydney-based Usage Business Solutions took home the top honour of Sage ERP Partner of the Year for 2021, while also winning another award: Sales Excellence ANZ 2021 Sage X3. We are really excited and feel honoured to receive this prestigious award from Sage.
We value the validation, and thank our customers and clients for their support.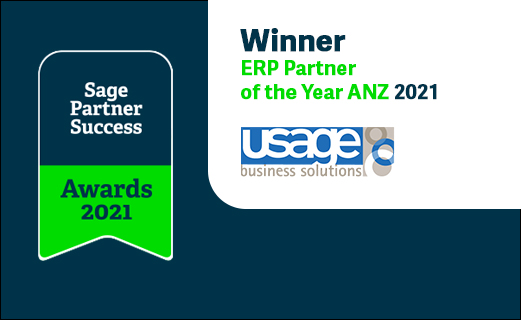 What's coming!
Increased automation: Increase journal entry accuracy with GL Outlier Assistant; Streamline your AP purchase invoice entry process with Purchase Invoice Automation (Early adopter); Auto-create journal entries for reconciliation (Early adopter).
More visibility: Faster visibility for inventory inquiry in items; Add a column in financial reports to display notations; Hierarchical view and bulk delete for new list user experience (Expanded beta).
Extended tracking and reporting: Track grant details and restrictions at the project level; Include contract renewals in forecast reports in addition to bookings.
Click here to see more great features